High Performance Marine Paints & Coatings For Metal
The Toughest Marine Grade Paints For Metal And Steel – For The Harshest Environments
Are you looking for the best marine grade paint for metal?  By using the right high performance coatings to prevent rust and corrosion, you can significantly extend the useful life of your boats, barges, pontoons, transport equipment, boat trailers, I-beams, docks, bulkheads, bridges, waste water clarifiers, or other metal structures in any salt air or salt water marine environment.  Our marine paints have some of the highest salt corrosion resistance ratings in the market. (As high as 15,000 hours on the ASTM B117 salt spray test).  You can apply our marine coatings directly over rusted metal or steel and they don't require sandblasting.
When the integrity of the metal has been compromised, our coatings can bond to, and strengthen, rusted metal surfaces, therefore inhibiting corrosion for many years.  Our waterproof corrosion coatings can protect metal / steel that will be underwater or exposed to constant high humidity.  Whether your project is above or below the waterline, we have your solution!
Marine Painting Projects
Rust Grip®, Moist Metal Grip and Enamo Grip were all used to coat the Blue Chip Chip Casino II (below).  In 2006, it was the largest casino boat in the world.  As Rust Grip® can be applied over tight surface rust, by eliminating the need to sandblast, over $2 million was saved on the project.
This project was completed by January of 2006 and was later inspected in 2019.  After more than 13 years in the water, the coatings were still fully intact with no problems.  This 3 coating system is an excellent choice for long-term performance on on the exteriors of metal boats, docks, and structures that will be submerged in salt or fresh water.
***
Here's an example of how you can give a new life to an older steel barge.  After prep, this barge was coated with Rust Grip®, Moist Metal Grip, and Enamo Grip (3 coating system).
When painting areas above the waterline like decks, railings, stairs, walls, etc., Rust Grip® is strong enough to be used on its own; no other primers or top coats are required.  If a specific color is desired, you can top coat Rust Grip with Enamo Grip.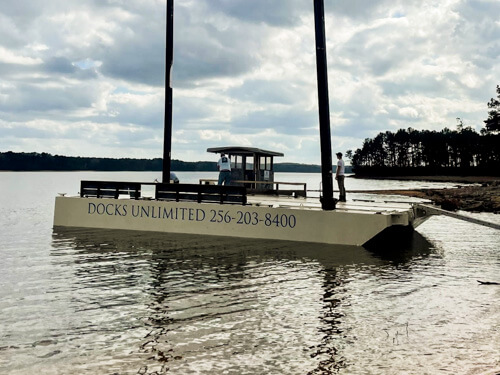 Our 3-coating system is an excellent choice for any exterior (or interior) metal or concrete that may be fully submerged such as docks, retaining walls, and waste water clarifiers.
Have Any Questions?  Call Us!
917-836-7816
"We have been in the steel barge construction and repair for more than 20 years and normally we sand blast and prep the steel before coating. Some compartments on older barges we can't blast and prep properly. That's when we use Rust Grip. We are very pleased with this product."
"Warren County PennDOT is very pleased with the performance of Rust Grip with our numerous projects throughout the spring and fall. Not only were we satisfied with the product, but the customer service and price was unbeatable. Looking forward to ordering more Rust Grip next spring!"
Rust Grip® is  a great all around marine grade maintenance coating for interiors or exteriors.  It can be easily applied with a brush, roller, or sprayer and as a 1-part, 1 coating system, you won't need any other coatings.  This shortens project times and reduces your maintenance costs.  You can use Rust Grip® to encapsulate rust or over firmly bonded paint on floors, walls, decks, doors, beams, and more.  It's a highly effective paint for barges and boats used in fresh or salt water.  Here's an example of application on the floor of a metal boat:
Need more information?  We look forward to helping you get the best results for your project.
1. What is the best way to paint barges, metal boats, or vessels that have rust?
Preparation is important: Remove heavy/loose rust, loose paint, scale, etc. so that at a minimum, surfaces are brought to a combination of tight surface rust, firmly bonded paint, and some bare metal. Power wash with a salt remover as power washing alone will not remove all salts – even for fresh/brackish water as it can contain small amounts of salt.
For fully or partially submerged areas (hull, sides, bottom, etc.), after preparation, we recommend 1 coat of: Rust Grip, Moist Metal Grip, and Enamo Grip.
As Rust Grip can encapsulated tight surface rust and firmly bonded commercial paint, white sandblasting is not required. If surfaces are more heavily rusted or deeply pitted, a commercial blast may be recommended.
Moist Metal Grip, a water-repelling epoxy, will provide additional corrosion resistance and submersion protection.
Enamo Grip which is also waterproof, will provide full UV protection for Moist Metal Grip. Enamo Grip can be custom tinted to any exact color specification; some standard colors are available.
An additional advantage to using a system like this is that each coating can be a different color and thin spots during the application can be easily seen. This will help ensure an even application at the correct thickness for maximum protection.
2. What do I need to paint a rusted deck, railings, metal walls, or other metal areas of a boat above the waterline?
After basic preparation (see above FAQ), you can encapsulate metal with tight surface rust with just Rust Grip.  As Rust Grip has aluminum in it, it is light grey with a matte finish.  If you are looking for any other color, Enamo Grip can be applied over Rust Grip.  Non-slip additives can be added to both coatings if desired.
3. What paint works best for metal structures on or near salt water?
On projects for bridges, marinas, docks, retaining walls, or for heavy equipment/cranes, or structural steel, for pure corrosion protection, Rust Grip is an excellent option. It has one of the highest salt resistance ratings of any marine paint (rated 15,000 hours on the ASTM B117 salt spray test).  If the metal is above the waterline, Rust Grip can be used as a stand-alone 1-coating system.  For areas that will be buried, below the waterline, or if a specific color is desired, use a water repelling epoxy such as Moist Metal Grip or a waterproof UV resistant coating like Enamo Grip depending on the type of application.
Have Any Questions?
Call us at 917-836-7816 for more information about our products or services
Monday - Friday
9:00AM - 5:00PM